Tuesday, September 01, 2009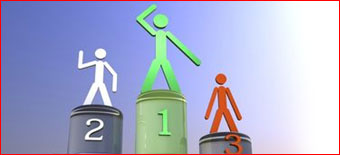 2009 Search Engine Ranking
Recently, SEOmoz released a fantastic biennial search engine rankings report. Every two years, SEOmoz interviews the top 100 minds in the SEO industry. This time, they have gathered data from the top 72 SEO professionals to give a clear idea of how the search engines rank documents.

»

Submit Your Site
Do you have a search related site?
Submit it free to the internet's best search
industry directory. » Click Here

Search Engines
Google, Yahoo, MSN...

Search Marketing
Marketing, Budget, Planning...

Pay Per Click
Bid, Price, Quality...
SEO Companies
Optimization, Manage, Company...

SEO Tools
Track, Search, Create...

Analytics
Statistics, Counter...

» Submit your site for

FREE

«

Click to Play

The Search Industry in 2014
Where do you see the search industry heading in the future? SEOs and SEMs are notorious for asking this question, since the industry changes so rapidly. As a result of both user and technology advances, the industry...


Bing Cashback Program?
In a bid to monetize its new search engine Bing, Microsoft has launched the Cashback program to searchers. Microsoft originally launched Cashback in May 2008...



51 Languages in Google Translate
s there are millions of Googlers living and working in dozens of countries, but the products and services on Google are used in more countries.



Local Business Listings in Google Street View
Google have just made local marketing even more attractive for businesses - Finding a local business with Street View just got easier.